Every minute awake spent on music

Anna Meline has unlimited audience thanks to the Internet

Anna Meline is spreading her music by being active on multiple platforms on the Internet. She posts, writes a blog and records videos. In that way, she reaches a large audience from all around the world.

"It's so much fun with all the different platforms. You connect with many people who also love music, and at the same time, you reach a large audience" she says.

The first album

Besides being somewhat of an expert on social media, she also writes her own songs and makes music videos. She describes her music as pop music with influences of dance, country/pop and pop/rock. "It's a bit of what I'm inspired by at the time"

When she was 13 years old, she got her first guitar and it didn't take long before she wrote her own songs. In high school, the music program was the natural choice and at that time, she began composing songs in a music program software.
After graduation, she applied to the music production program at the university, but realised that she didn't want to become a producer. "I want to produce my own music and perform with it. That became the starting point of my own album." The album contains seven songs and is named "I Couldn't Stay". It's available as download on iTunes, Google Play, Amazon and so on, and as CD on Amazon.com.
The videos
"When we recorded "We Just Didn't Make It This Time", we got to borrow a bridge from this old couple living near the river. The video was recorded during a one year time period, because we wanted all four seasons in it. If the couple reads this, I'd like to thank them for lending us the bridge," she says.
The Music
The songs she writes is most often about love and the inspiration mostly comes from people she met or in some way has inspired her. The melodies and lyrics comes naturally to her. "I hear the song in my head, then I write it down and compose it." All the songs are in English. One of her former high school teacher helps Anna with feedback and parts of the production. Then the only thing left to do before the song is completed, is mastering. For mastering, she travels to a studio in Stockholm. A studio where many famous musicians from Sweden also gets their music mastered, among them Agnes Carlsson, famous from the show "Idol".
Regional radio
One of her songs has reached some success in regional radio. "What For" was the number one in Sweden's regional radio P4's list for weeks. Many may also recognise Anna from last year's talent show. This fall along with other musicians, Anna will perform and record acoustic sessions with guitar, piano and backing vocals. These will be posted on her YouTube channel. "There will be new songs" she reveals. There is no mistaking how passionate Anna is about music. Despite the hard competition resulting from the more available climate to make music today without having a record deal with a record label, Anna has her aim in sight. "My dream is to be able to tour around the world with my music and keep on writing new songs, but along with producers and musicians around the world".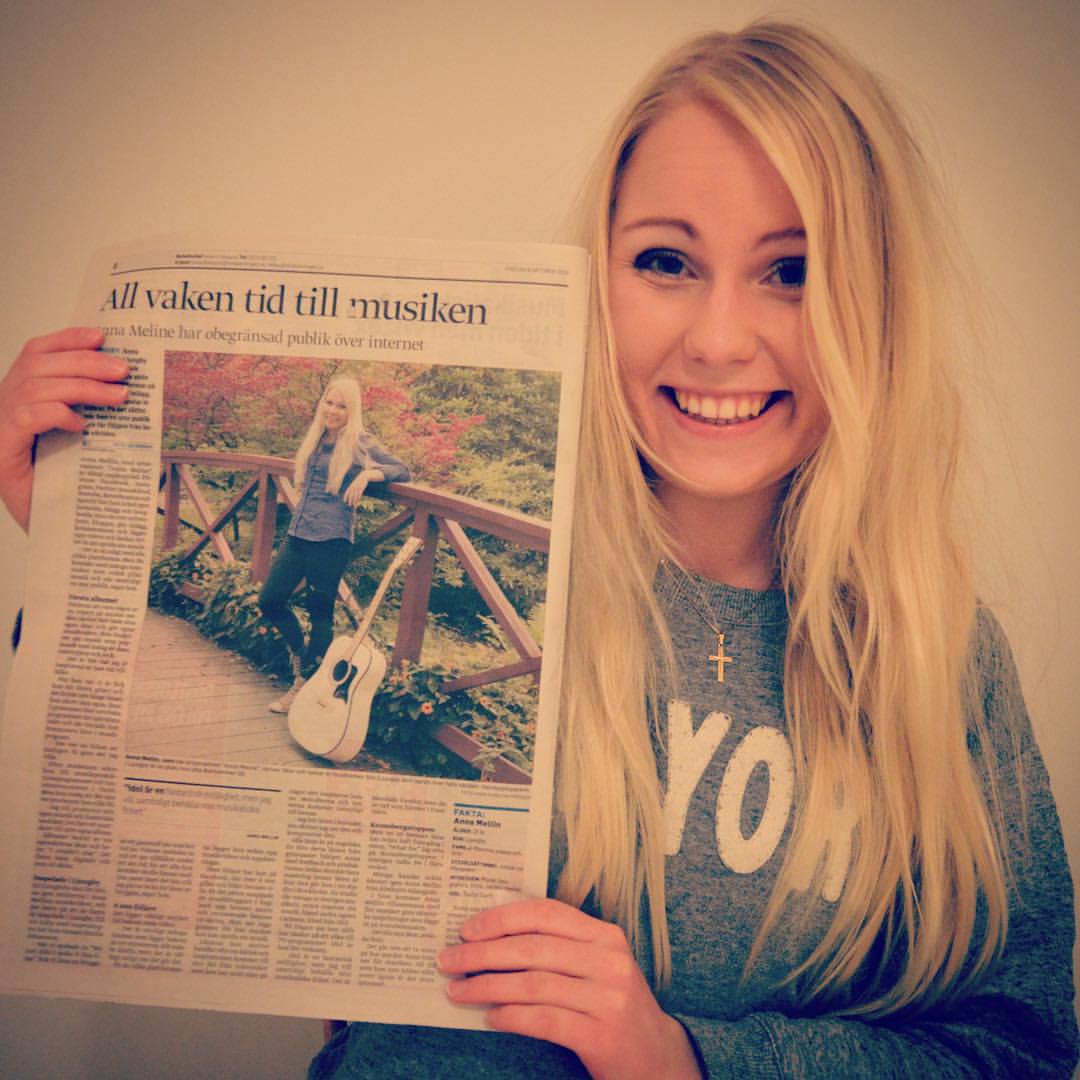 Translation by Anna Meline from the original article by A-K Persson published 10/9 2015.